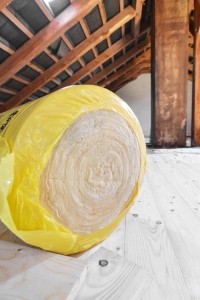 In the Central Kentucky area, our temperatures vary from too cold in the winter to too hot in the summer. Many people often wonder if they have enough insulation in their home. A home inspector often gets asked, "Do I have enough insulation or should I add more insulation?"
Why Insulation is Important
Most people are surprised to hear, buildings are the number one source for greenhouse emissions. Having a home that is well insulated can help the environment. It can also save you up to 30% on your heating and cooling bills. If you notice your home not heating and cooling the way you want it to, lack of sufficient insulation could be the reason. Walls that aren't well insulated can feel cold even when the thermostat says 72. Rooms upstairs may not heat and cool well, which is another clue that your insulation may not be enough.
Do I Have Enough Insulation?
In Central Kentucky the recommended R-value or RSI for attics is 49 or higher.  Wall insulation is a lower R-value.  The higher the number the better the insulation is. Older homes tend to need more insulation than newer homes.  It is always better to have more insulation than not enough. This will allow your house to stay warmer in the winter and cooler in the summer.
Before you add insulation, you need to determine how much you have now. During your home inspection, the height of the insulation can be determined to figure out the R-value you have. For example an R-value of 50 is about 13.5 inches of blanket fiberglass insulation. Once you know how much insulation you have, you can add any insulation you might need.
Adding More Insulation
You can add more insulation yourself, or hire a company to do it for you. Good insulation will protect your home from some of the dangers of winter conditions like ice dams and winter roof leaks. Your attic requires proper ventilation so it is important to follow directions when applying insulation to your attic. The manufacturer should have detailed instructions to get you started.
Your Home Inspector Can Help
During your home inspection, Paul Hope can indicate which areas of your attic need insulation and if there is visible damage to areas in your attic.  This would include water damage and prior problems.  Call Hope's Home Inspection if you have any questions or need a home inspection and Paul will be happy to help you.