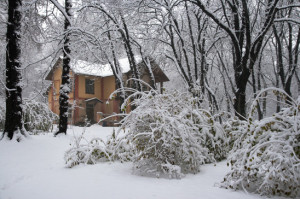 You will need to get a home inspection this winter if you are purchasing a new home. Hope's Home Inspections operates year round. It's true there are some limitations to having your home inspected in winter but there are also ways around the limitations so that you can protect yourself.
Thorough Inspections In Winter
You may not be able to control how much snow is on the ground. This will limit a thorough inspection of the entire roof and a good inspection of the landscape. That is to be expected in winter. The inspector however does have access to the attic to look for leaks or water damage and to the basement as well. If you get a home inspection this winter, make sure your inspector comes during the day when it's easier to see and he won't be limited by dim lighting.
Hope's Home Inspections provide home inspections of all major structures in your home and you can expect the following aspects of consideration:
Stability and workmanship of interior structures and attached components, connected appliances, smoke detectors and other safety devices
Plumbing systems and components, including plumbing parts, fixtures, and efficiency of water pressure and distribution
Furnace and air conditioning systems, including piping, supply parts and distribution ductwork
All visible components of the electrical system, including circuit breakers or fuse box, any visible wiring, switches, outlets and grounding outlets
Building structure of the basement or crawl space and attic, including insulation and ventilation properties, and adherence to construction standards
Windows and doors, and associated components for energy efficiency
Construction and materials of the exterior of the home and roof, with emphasis on safety and durability
The inspector will use advanced testing equipment to perform his examination of your home.
Winter Conditions And Your House
Your house will react to different climate changes differently. You can get a good idea how your house handles winter conditions during winter home inspections. You can test your furnace and heating units that are normally not tested well in the summer. It's true your air conditioning can't be tested as well in the winter. Some buyers write provisions in their contracts to cover the part of the HVAC system that cannot be examined properly out of season. This is an option you may consider if you suspect a problem or want to make sure your not paying for unexpected expenses.
Call To Get A Home Inspection This Winter
For a thorough home inspection, you can trust Hope's Home Inspection to provide you with all the details about a house you're interested in so that you can make an informed decision before you purchase a new home. They are dedicated to providing you with the most thorough home inspection in Lexington and Georgetown Kentucky. If you need to get a home inspection this winter, call Hope's Home Inspection and they will be happy to help you.
.